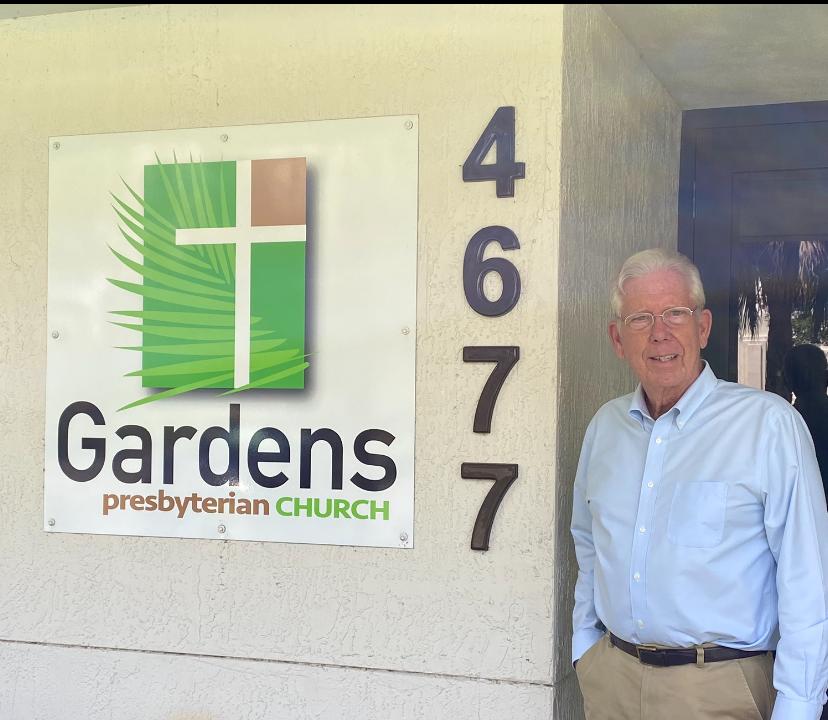 Rev. Roger Verse is our Transitional Pastor of Gardens Presbyterian Church.
Reverend Roger Verse was born in Plainfield, N.J. and grew up in nearby Scotch Plains. As a teen and young adult Roger was affirmed and encouraged to consider a call to ordained ministry both from his home pastor and college professors. His formal education began at Upsala College and continued to Princeton Seminary where he received a M.Div., and Th.M. degrees. He has a certificate in Family Therapy from the New Jersey Center for Family Studies and holds a D.Min., in Marriage and Family Ministry from Eastern Seminary in Philadelphia.
Roger served two pastorates in New Jersey, Fairmount Presbyterian Church, Califon, and First Presbyterian Church, Iselin, before moving to Florida in 1989. He served interim pastorates in Pembroke Pines, DeLand, and Jupiter before being called to be the Pastor of the Second Presbyterian Church in Ft. Lauderdale in 1997. Recently, Roger has served as Interim/Transitional Pastor in Boynton Beach; Hobe Sound; Mariner Sands, and the Village of Palm Springs.
Roger has been married to his wife Selma for 44 years. She is a Nurse Educator and a Certified Parish Nurse with experience in health ministry. Selma's avocation is church music, particularly organ. Together they raised four children and have had the joy of being present at the birth of each of their seven grandchildren.
The Verses enjoy sailing and Roger recently completed course requirements at the Chapman School of Seamanship to qualify for a US Coast Guard Captain's License. He is very excited about joining the ministry of Gardens Presbyterian Church.
Rev. Linda LeSourd Lader is our Parish Associate.
She is ordained in the Presbytery of Tropical Florida and served as temporary supply pastor to 2nd Presbyterian Church (The Sanctuary) in Ft. Lauderdale from February through August 2011. Before and after her time in Ft. Lauderdale, she served on the pastoral staff at New York Avenue Presbyterian Church in Washington, DC, where she was most recently a Parish Associate. In 1981, together with her husband, Phil, she co-founded Renaissance Weekends, 5-day family retreats for leaders from all walks of life. They continue to host these retreats five times a year, now with their adult daughters, Mary-Catherine and Whitaker.
Cindy Woodrow is our Director of Family Ministries.
She has 24 years experience in public education, 15 years experience in youth and children's ministry including 10 years as a Sunday School Director in Wisconsin. She is married, a mother of four and a grandmother of seven.   Our vision for the children at Gardens Presbyterian Church is to provide a loving, fun, and secure environment in which a child will be encouraged to learn about God through Bible teachings, arts and crafts, music and drama.
 Amy Kirk is our Nursery Care Coordinator.
 Amy has been a part of the Gardens Presbyterian family since 2004. She is an ordained Deacon and active in the Family Ministries program since she was a young teenager. She has a love for all children. Amy has earned both Masters and Bachelors degrees in Elementary Education from the University of Florida. She loves all kinds of dance and has been an instructor for 8 years. She loves caring for the youngest members of our congregation.
Dr. Suzanne Galer-Wert is our Worship & Music Director                     
 Dr. Suzanne Galer-Wert, is honored to be called to ministry at Gardens Presbyterian Church. She will be leading the Chancel Choir, the bell choir, contemporary musicians and serving as pianist. She is also the Director of Bel Canto Studios of Palm Beach where she teaches piano and voice to students of all musical styles. She holds a degree in Music and Elementary teaching from Hope College in Holland, Michigan; and enjoys working with congregations and students of all ages. Suzanne and Brian reside in West Palm Beach and enjoy the beaches, gardening, cooking, art museums, reading; and attending operas and Broadway performances at the Kravis Center. Since most of their family reside in the Mid-West, they are happy to have a church family at Gardens Presbyterian. Suzanne is married to Brian Wert and her married name is Suzanne Galer-Wert.
Lynda Hart is our Executive Administrator.
Lynda has been with Gardens Presbyterian since December 2014. She graduated from Florida Atlantic University in 2006. She is married to Andrew and has a son, Jack. Lynda keeps everything running smoothly around the church and manages the routine, and not-so-routine tasks, all with a smile.